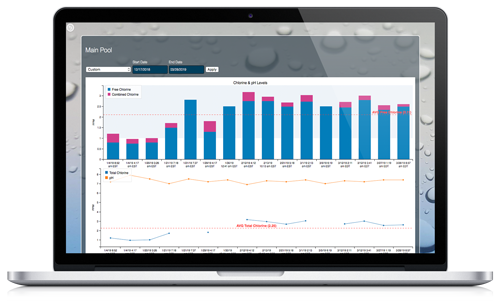 Staff Communication
Quickly see when pools were tested from anywhere to ensure compliance and oversee remote locations. All recorded information is instantly available from mobile device or computer.
Efficient Logging
Efficiently record pool chemical tests and usage on your mobile device.   Offline recording available on IOS devices. Android and other devices require an internet connection and  a current browser.
Notifications
Automated alerts notify you when pools require attention. Ensuring you stay informed even when you are away.
Unlimited Users
User management provides unique logins for each staff member.  Seasonal staff accounts can be de-activated in the off season and activated again the following year.
Fast & Easy Recording
Quickly record the results of pool chemical testing, usage, and notes on your smart phone, tablet, or laptop while you are on-site. All information is securely stored in the cloud, eliminating the need for syncing devices at the end of the day.
Record Only What You Need
The Pool Shark H2O system allows customized pool logs for each pool. Turn on the pool chemical tests required by your state or county and turn off the tests you don't need.  The formatted reports and downloads only display chemical tests you record.
Custom Report Checklists
Our custom report builder lets you easily create checklists and report forms specific to your facility.
All your records will be stored securely and available when you need them. Provide staff specific instructions, capture names, dates, photos, signatures and more!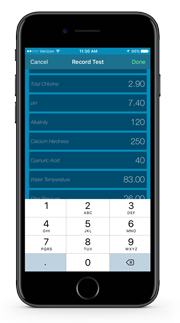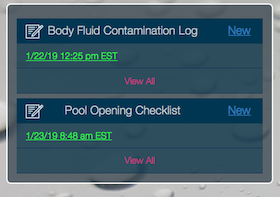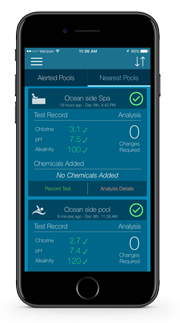 All Your Pools In One Place
Support for Unlimited Pools  keeps all your pool logs, chemical usage logs, and notes in one place and always available.
Our patented smart search displays pools closest to your location, making chemical logging faster and helping to eliminate errors entering data for the wrong pool.
Notes & High Priority Alerts
The optional notes field allows detailed notes to be kept each time the pool is tested.  Marking a note as "High Priority" generates automated messaging alerting those staff members who need to know.
Geo-Fencing *
Ensure water tests are recorded at the pool. Alerts notify administrators if tests are recorded offsite.
Keeping Water Crystal Clear
Who doesn't want to swim in a crystal clear pool?
Chemical Adjustments
Dosage amounts for Chlorine, PH,  Alkalinity, Calcium Hardness and Cyanuric Acid are automatically provided for you with every test entered. The Pool Shark H2O system uses the test data and the pool information to determine the correct dosage needed to keep your pool chemicals in the ideal range.
All calculations based on Model Aquatic health Code and the National Swimming Pool Foundations Operator Handbook.
Break Point Calculator
Wondering how many bags of Shock to put in your pool?  Our easy to use breakpoint calculator making this task quick and easy!
Track Chemical Usage
Quickly and easily enter any chemicals you add to the pool for maintenance.  These logs provide an easy way to track the amount of chemicals each pool is using for inventory and ordering purposes.
Reporting
100% Health Department Compliant Pool Chemical Logs
Email Results
Administrators can  get reports as  formatted emails with pool chemical tests, and usage log data. These reports can be printed out or emailed to state inspectors as required to keep in compliance with regulations.
Download Files
The entire pool log Book and the pool chemical usage Log are available for download by administrators. These copies can be used for  a local backup or importing into additional systems like Quick Books, if desired.
Signup Today For Instant Access
Join today and get a 1 month, No Obligation Free Trial.